Kansas Bankers Association has a new look we are excited to share with our bank community.
Why The Change?
More than a century of service in the banking industry has taught us that moving forward often involves reflecting on the past. With that in mind, we engaged in a rebranding process that will set us in the direction for what is to come from the association and honor the rich tradition of banking in Kansas. The new brand is an external reflection of renewed vigor to continuously improve and better serve the banking community.
How We Got Here
The new brand will be on display in all of KBA's communications going forward. There will be a few notable changes, like our new website. The most prominent feature of our new brand will be the logo which illustrates both the history of the KBA and our promise to Kansas banks.
The base of the new logo is the familiar shape of a crest. The coat of arms is representative of family, symbolizing how we feel about our members. Atop the crest, the notched corner creates the familiar shape of the state of Kansas. Inside the crest is the famous Kansas sunset. The rays of light reach every corner of the crest, the same way KBA's services reach every corner of Kansas. The new logo represents KBA with elegance and authority. It is 133 years of service put on display.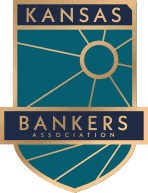 What It Means For You
Every decision we make has Kansas banks at the center. Each enhancement is about improving service to our membership, and our decision to rebrand is no different. The updated brand will anchor new campaigns aimed at the general public and policymakers.
The campaigns are designed to aid in the recruitment of fresh talent to the banking industry and position the needs of banks as a priority for policymakers. We've heard about the need for these two initiatives straight from our membership, and we look forward to addressing these important issues in the coming year.
Below is a first look at one piece of our new creative work to support Kansas banks.